Round 10 of AMSOIL Championship Off-Road was filled with high-speed action and as the sports best drivers didn't disappoint a hillside of fanatics at Bark River International Raceway.
As several championship contenders made huge gains on Saturday, several more tightened up on Sunday. A past champion put on another driving clinic in Pro 4 while a first time winner showcased his title chops in Pro 2. That and a full day of sportsman racing that featured enough late race passes and door-to-door action to last a season.
PRO 4: Big Win for Greaves in Championship Chase
Kyle LeDuc closed the gap on CJ Greaves' points lead after a successful weekend in Lena two weeks ago. CJ Greaves responded with a near-perfect weekend at Bark River.
Greaves took both class wins in Michigan, including a round 10 win on Sunday that was nearly spotless. Lap after lap, Greaves seemed to hit his mark, turning a sport known for its bumping and banging into a ballet as he seemed to float around the huge Bark River track.
Johnny Greaves got the lead off the start, with CJ right on his bumper. The younger Greaves never pushed the issue, as Johnny Greaves was setting a torrid pace. But right before the mandatory caution, Johnny Greaves made a quick move into the hot pits and never returned. That gave CJ clear vision, and he was extremely precise on his way to his fifth win of the season.
Surprisingly, Doug Mittag has not been able to get back on the Pro 4 podium since he doubled up on the opening weekend at ERX Motor Park. On Sunday, he put in a blue collared effort on his way to the runner-up spot behind Greaves. Mittag touched about every spec of dirt on the Bark River track as he kept in striking distance of Greaves but ran out of time as he came across the line in second.
Andrew Carlson keeps finding podiums waiting for him at the end of races. The Elk River, Minn. Native was able to move up early in the race when LeDuc went out and then took care of business as he tracked down the leaders in the second half before finishing third.
Couple with Kyle LeDuc's early exit, Greaves now sits 25 points ahead of the defending champ. But LeDuc has won both rounds of racing in June at Crandon and the two will square off in 18 days to decide the 2021 title.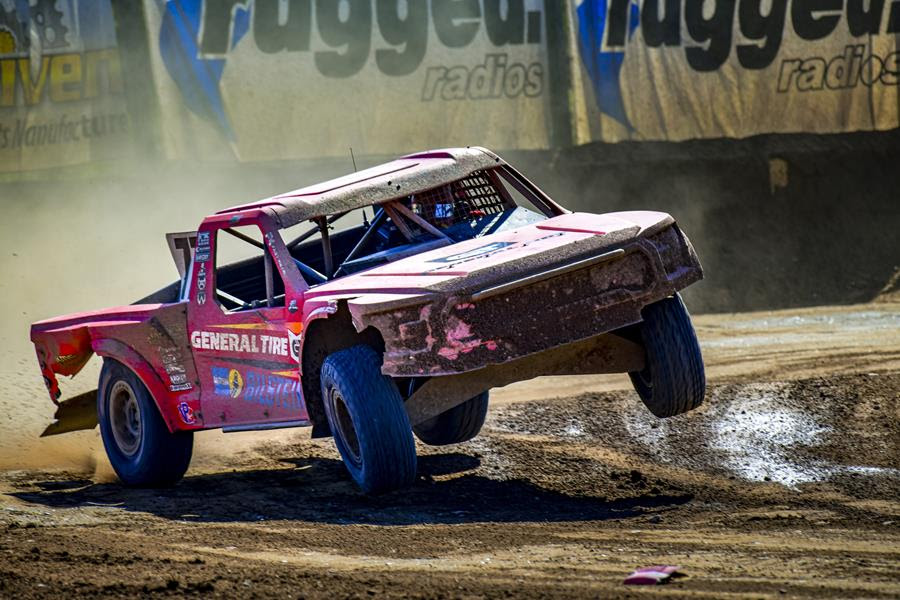 PRO 2: Brooks Busts Through with First Win, Points Lead
With the exception of Crandon, Jerett Brooks has spent the entire 2021 season racing on Champ Off-Road's tracks for the first time. Each weekend he has to collect new data on truck set-up, tire grooving and learning how each turn and jump will react to his Pro 2.
So far, he has been a well-above student of the Midwest's off-road offerings. He has only missed two podiums this year, and despite having grabbed the overall points lead on Saturday, was still looking for his first win of the season. He crossed that off his list in convincing fashion on Sunday while giving his overall points lead a healthy boost thanks to tough days of racing for Keegan Kincaid and Ryan Beat.
Brooks got out front on lap two as several spin-outs on the slick track continuously caught up several groups of trucks. But Brooks had his truck dialed in on Sunday, as he motored to the mandatory caution with a good lead. In the second half, he was challenged several times, but driving in clear air allowed him to set the pace as he distanced himself from the field for his first win.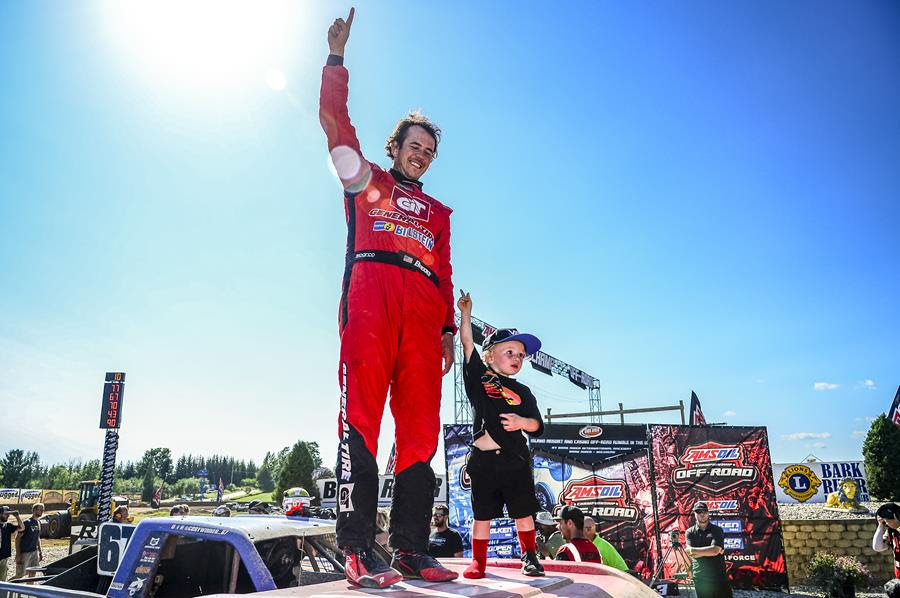 Cory Winner has been in the mix in almost every race this year, but only had one podium for his hard work. He was up to the task of going for the race win on Sunday, and if it weren't for Brooks, he would have found it. Instead, Winner was able to clear himself from the back after the restart and came across in second and moved him into second overall and within striking distance of Brooks for the overall lead.
Round seven winner Rickey Gutierrez went through a war zone on his way to the final podium spot on Sunday. He ran as high as second and was then bumped and banged out of the top five. But when the checkered flag came out, Gutierrez was back in the mix, crossing the line in third.
Heger Storms Back in Wild Pro Lite Showdown
Pro Lite may have delivered the race of the weekend on Sunday. Blessed with a deep field of growing talent, the class has been showcasing in-race battles up and down the line-up all year long.
Brock Heger has been exceptional in his first full season of Champ Off Road. Sunday was no exception. He had quite a bit of work to get to the front in round 10, but once there he motored to his seventh win of the year.
Behind him, things were a little less clear-cut. Round nine winner Cole Mamer started fifth, which was really a scrum of several trucks that would follow and torment one another for the duration of the race. Mamer was quick again on Sunday, darting through tight holes to get in behind Heger. He would cross the line in second for his fourth podium in 2021.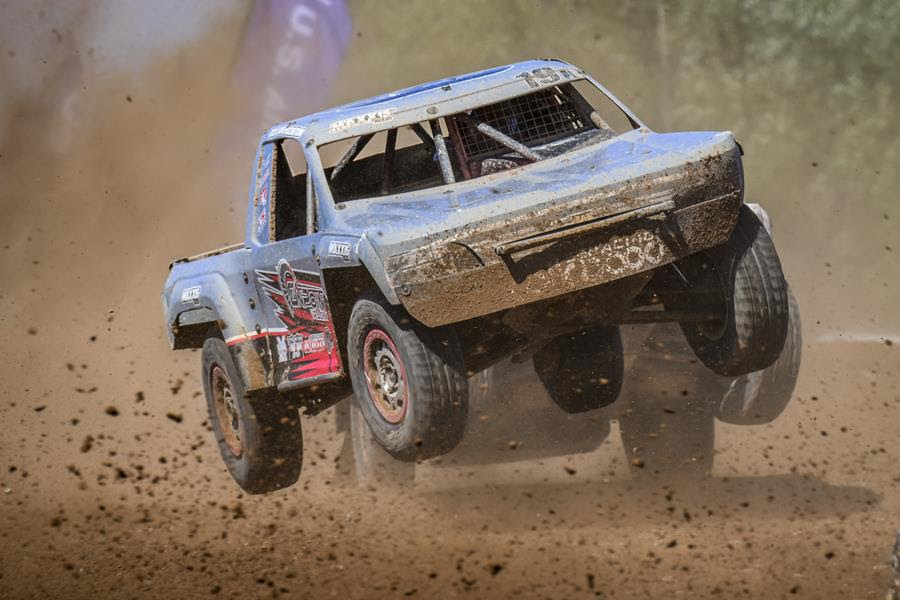 The real battle was for third where three trucks spent the last few laps swapping spots and drifting through 180-degree turns door-to-door-to-door Dillon Pointon, Carson Parrish and Johnny Holtger were in a three-way tug of war, but when the rope broke, it was Pointon who was able to sneak out and nab the final podium spot, his third straight trip to the box.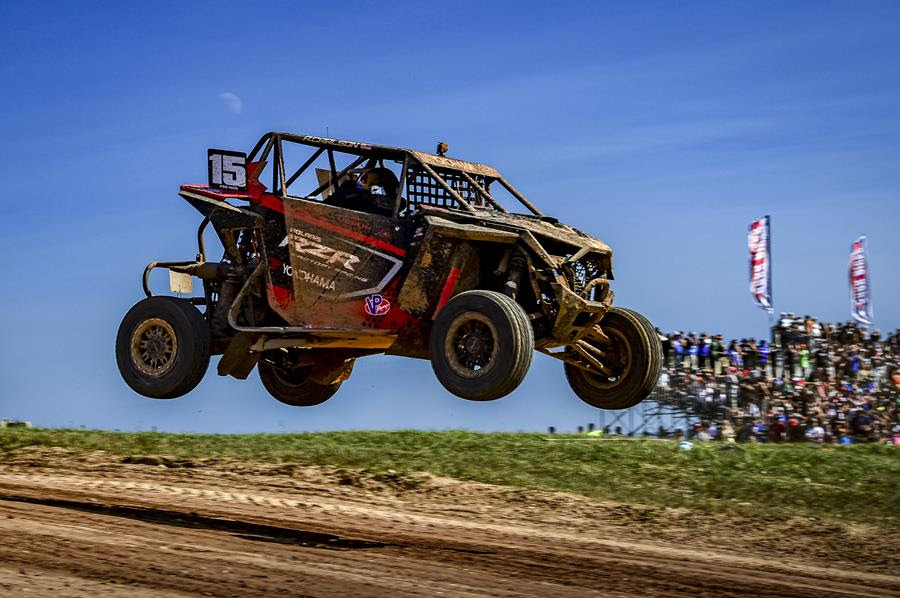 Carlson Keeps Title Hopes Alive with Pro Mod Victory
Kyle Chaney's up and down season continued on Sunday as Andrew Carlson righted the ship in Pro Mod.
Carlson entered the weekend with the points lead but lost it with a tough run on Saturday. He was on a mission early, looking like he was going to pull away from the field before a red flag stopped the race. That gave Kyle Chaney a chance to close the gap, and briefly take the lead. But just as quickly, Chaney was forced to the sidelines and Carlson went back into the lead. He would keep the lead but was pressured heavily in the second half by points leader Rodney VanEperen. The two would cross the finish line just .383-of-a-second apart, with Carlson taking his fourth win of the year.
Saturday's winner Owen VanEperen finished third.
Heger Sweeps Pro Stock
Brock Heger has been tough to beat in his Yamaha this season as the Pro Stock SXS points leader took a weekend sweep in Bark River and increased his overall points lead from four to 47 after CJ Greaves had a tough run on Saturday Heger went wire-to-wire for his fifth win of the season and seizing control of the championship. He and Greaves had been neck-and-neck all season long, but Greaves finished 20th on Saturday. Greaves then started 11th on Sunday and went on a tear, moving into second on lap 8 behind Heger. But Heger had a big lead and Greaves would settle for second. Jacob Rosales finished third.
PRO BUGGY: Michael Meister is on a spectacular run towards the Pro Buggy title. He notched his seventh straight win in another dominant, high-speed showdown on Sunday. The win gives him a 69-point lead. Mike Kirkham was the runner-up for the second day in a row. Mark Steinhardt rebounded from a tough race on Saturday to finish third.
PRO AM SXS: Tyson Marquardt found his way back to the top of the box with an impressive win in Sunday's Pro AM SXS race. Marquardt's fourth win of the season helped him close the points gap on brother Dylan, who won on Saturday but finished outside of the top ten on Sunday. Chase Kleist led for the first six laps before finishing second. Logan Christensen got around Mike LeTourneau on the last lap for his first podium finish of the season.
SUPER STOCK TRUCK: Ben Holtger found the winning formula in Bark River, taking both wins in Super Stock Truck over the weekend. Holtger grabbed the lead with three laps to go when Race Visser left the track. Points leader Joe Maciosek finished second, less than a second ahead of Nick Byng.
SPORTSMAN SXS: John Kummer capped off a solid weekend of racing by winning the Sportsman SXS race on Sunday. It marked Kummer's first podium finish of the season. Jake Jorgeson held down the runner-up spot behind Kummer and Dustin DeGrand used a last lap pass to get by Sam Brazee for the final podium spot.
STOCK TRUCK: TJ Ewert extended his winning streak to three after he grabbed the lead with three laps left to go in Sunday's Stock Truck race. Ewert started sixth but was able to work his way through traffic for his fourth straight podium. Early race leader Kyle Ambroziak and Jason Pflugradt were neck-and-neck for the final two podium spots for most of the race, with Ambroziak nudging out Pflugradt by .146-of-a-second at the finish line.
1600 SINGLE BUGGY: Dylan Parson is making a late season push to unseat John Fitzgerald atop the 1600 Single Buggy standings. Parson was flawless in Bark River, winning both races over the weekend. Fitzgerald, meanwhile, was unable to get around Jeff Bechinski at the finish line, coming in third behind Bechincski by .226 of a second. Parsons picked up 18 points on Fitzgerald over the weekend and sits just 12 points behind the overall leader.
170 SXS: Kody Krantz now has five wins in the past six races, including four straight. He had to make a last lap pass to regain his earlier lead to take the 170 SXS win on Sunday. Wyatt Olson finished second and Ellah Holtger came in third.
MOD KARTS: Troy Johnson made his first trip to the podium in grand fashion by winning his first Mod Kart race on Sunday. Hunter VanZile also notched his first podium of the season with a second place finish and Zach Wirhanowicz followed up his first podium finish on Saturday by once again finishing third on Sunday.
570 SXS: Chase Braun made it a weekend sweep in the 570 SXS class on Sunday. The seven-time winner in 2021 went wire-to-wire for the win. Round two winner Andy Johnson finished second. Benjamin Heitig used a last lap pass to finish third.
1600 LIGHT BUGGY: Colin Schulz swept the 1600 Light Buggy races in Bark River over the weekend. Schulz, the class points leader, has now won the past three races. Tyler Tizzle Wians finished second and Jake Schilleman was third.
AMSOIL Championship Off-Road concludes at the Big House in Crandon, Wisconsin over Labor Day weekend. Crandon International Raceway will host three day days of off-road racing starting on Friday, September 3. Each Championship Off-Road event will be live-streamed at Champoffroad.com or on Flo Sports.