The future of short course, off-road racing was on full display as AMSOIL Championship Off-Road kicked off its 2021 campaign in Antigo, Wis. at the Lions Roaring Raceway.
It has been nearly a decade since a full complement of off-road trucks thundered through the fairground speedway in Antigo. The old raceway lived up to its lore, providing a balance of bumper cars and ballet. Championships aren't won on opening day, but enough can happen to light the competitive fire that will last an entire summer.
CJ Greaves Keeps It Clean in Pro 4 Win
Take a mile long off-road race-track and twist and turn it enough to fit into a venue built for cars that make a lot of left turns. Then add some jumps, rhythm sections, dust, a few big tires and a hungry group of four thousand pound Pro 4 trucks. Mix it all up and you get one wild opening round where staying out of the fray could mean victory.
It didn't take long for the adrenaline to kick in on Saturday. It only took two turns when a full-course restart was ordered after Johnny Greaves cut in too close to a large tire used to stop trucks from cutting the tight left-hander. Greaves ended up on his side and collected a couple of trucks.
But some great racing kicked in after that restart as several Pro 4's took their turn at the front of the field. Jimmy Henderson was running in a commanding lead, but stalled out just before hitting the halfway mark. That put CJ Greaves out front when the mandatory caution came out.
When the race restarted, CJ Greaves moved well into the lead. The former champion was in constant study all day long, looking for an advantage on the bumpy surface. He applied a key piece of data he briefly noticed in the Pro 2 race to help him win the season opener.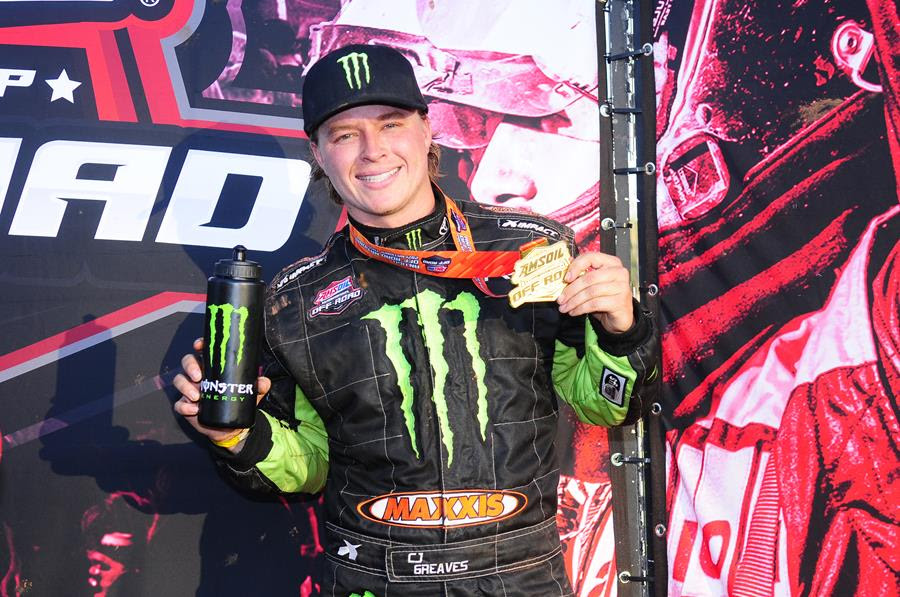 "This whole day I've been watching that turn (one), especially in the Pro 2 race," said Greaves. "Holy man, that thing is bad. (His spotter) Devin came on the radio and said, "what do you think about just going up by the wall?". I'm like, 'It's a stock car track and those guys do it.' I kind of stayed up there the majority of the race."
With fiberglass flapping in the self-generated wind, Johnny Greaves was back on four wheels and sitting in second. He had Doug Mittag and Kyle LeDuc in tow. LeDuc wouldn't make it to the end after his right, rear tire popped off with four minutes left on the clock
That left a spectacular battle between the elder Greaves and Mittag. The two went back and forth for several laps. Johnny Greaves got past Mittag with three laps to go, but as the white flag flew in front of him, Johnny slowed and pulled off the track. That gave Mittag, who hasn't driven in a Pro 4 race in two years, clear sailing to a second place finish behind Greaves.
"That was wild," said Mittag. "Me and Johnny were going back-and-forth. That was a lot of fun. We were battling clean and going door-to-door. (It was) good racing with him. Lots of fun. I just didn't have the speed for CJ.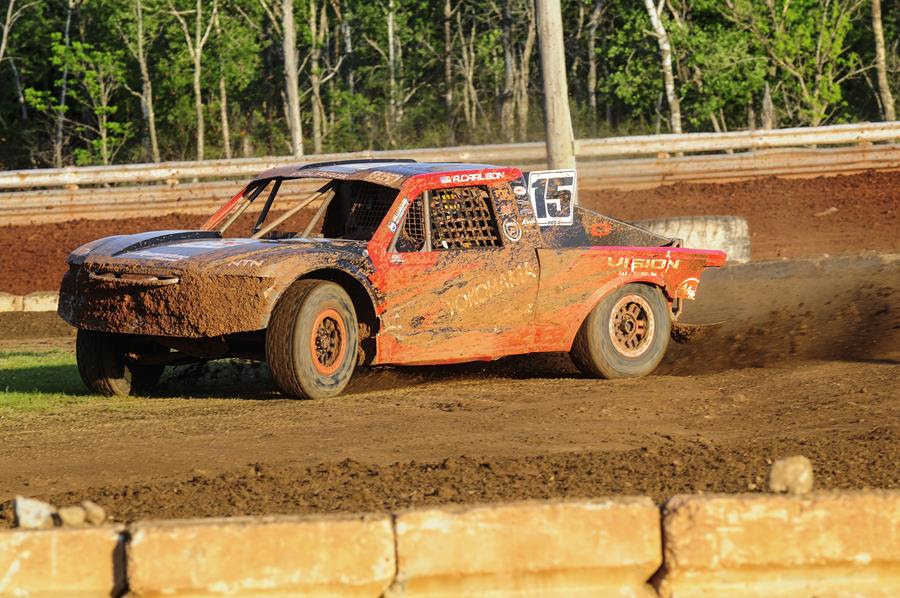 Andrew Carlson was running near the top of the leaderboard early in the race, but a broken axle left him without front-wheel drive. He was able to muscle his truck around the tight track, picking up a third place finish and valuable championship points.
"It was a handful," said Carlson. "I don't recommend driving a three-wheel truck. It was handling weird, and I saw an axle laying there and I said, 'I'm pretty sure that's mine.' But hats off to these guys (Greaves and Mittag). It was a typical Pro 4 thrasher that got crazy at the end with trucks breaking and wheels falling off."
Johnny Greaves finished fourth with defending champion Kyle LeDuc in fifth.
Kincaid Opens With Renewed Promised, Win
The amount of talent will run deep in Pro 2 this season. Twenty trucks lined up for the first race of the season, and the class is littered with possibly the most talented field of drivers outside of a Cup race that any short course series has seen in nearly 20 years. There are 11 new trucks in the class this season, with some drivers moving up from lower classes and several top West Coast teams making the seasond-long commitment to AMSOIL Championship Off Road.
On Saturday, the top driver calls Crandon home and has been near the top of the class for the past several years. But Keegan Kincaid spent 2020 looking for more from his truck, and it appears he finally found it this past off-season.
Kincaid started on the front row and as soon as the green flag dropped he found himself at the front of the field and away from the chaos. He would lock into a race-long showdown with Jarett Brooks, who had the early lead before Kincaid took control three laps in. Several restarts slowed Kincaid's momentum toward his first win since the 2020 season opener at ERX Motor Park. But he capitalized on those restarts, keeping Brooks at bay as he powered through the finish line for the win.
"It was a tough race, especially in that second half it was really rutted," said Kincaid. "I actually got my first pro lite win here in Antigo, so it really brings back some good memories. But it was a tough race and I'm really glad to be back on top."
Brooks finished second, just .9 of a second behind Kincaid. Despite just missing his second career Champ Off Road win, the former West Coast champion knows it's a long season and it will take a fast truck and a smart driver to contend in 2021.
"We have a lot of fast guys here at Champ Off-Road," said Brooks after the race. "This competition is not easy on a short track like this. We just tried to get through the field clean. This is a long season and how the points lay out will factor into position, so just be clean, be smart."
Mickey Thomas was a two-time winner in 2020 and put together an exceptional drive into third on Saturday. He was able to steer clear of the bumping and banging and kept pace with the race leaders, finishing just a few truck lengths behind Brooks for the final podium spot.
"That was a wild one," said Thomas. "The track had a bunch of holes, and it was tough navigating through it all. But it was fun."
Defending champion Kyle Kleiman found himself caught behind several points of carnage, but was able to steer clear to finish fourth. Cory Winner rounded out the top five.
Heger Hails Victory in Pro Lite
Brock Heger found the podium in the Pro Mod class on Saturday, but was able to move up the box a bit in his Pro Lite debut.
It was a mixed bag early for Heger as the California native bounced between fifth and second for the first half of the race as Carson Parrish ran well out front. But Heger found his rhythm and started moving through the field with consistent speed. He put himself into position to take over the lead on lap ten, getting past Parrish. After that, Heger never looked back on his way to victory lane.
"I learned from the SXS race that it's pretty much chaos in the beginning," said Heger. "So, I put myself in a good spot, stayed out of trouble and just tried to pick off people as much as I could."
The battle for second was chaotic, with Madix Bailey and Kyle Greaves going back-and-forth for the final several laps. In the end, Bailey was able to find smoother lines and held off the four time winner in 2020 for second.
"We've never really raced in (in the Midwest), but to be able to come here and be competitive is a big confidence booster," said Bailey. "I can't wait to go through the rest of the series and keep battling with these boys."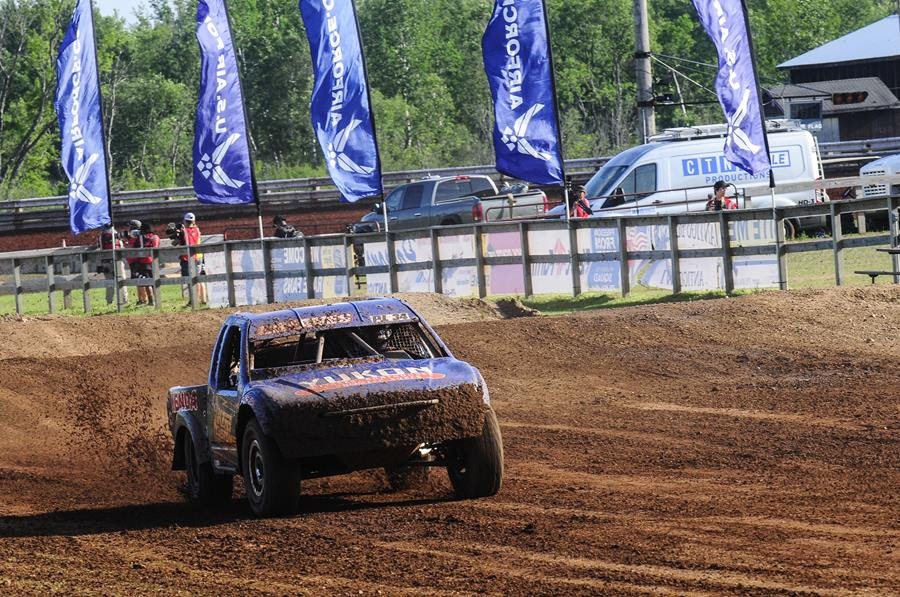 Greaves finished third, with Parrish crossing the line in fourth. Dillon Pointon rounded out the top five. The race also featured a new Pro Spec truck, which was introduced this past off-season. Ryan Beat drove the first Chevrolet sponsored truck to a top ten finish.
Carlson Charges to Pro Mod Win
Andrew Carlson found the right set-up for his Polaris RZR on Saturday as the Minnesota native motored to the Pro Mod win.
Carlson started on the front row and moved into the lead on the first lap. He was challenged early by fellow Polaris driver Robert Loire, then later by veteran Rodney VanEperen. The Yamaha racer made several attempts over the last half of the race to get past Carlson, but each time he challenged the race leader, Carlson found a better line or a bit of speed to pull away.
"That first turn was big," said Carlson. "I knew if I could get a good jump on those guys, I knew I could run with them. Obviously, they are fast, and would be on me all race. I felt like we really hooked up. I knew if I raced a good, smart race and didn't get squirrely, and put in some solid laps, we'd be okay."
Rodney VanEperen kept the pressure on through the last turn, finishing second. He was followed by his son, Owen, who worked his way through the field to finish third. Brian Waszak finished fourth, ahead of Loire.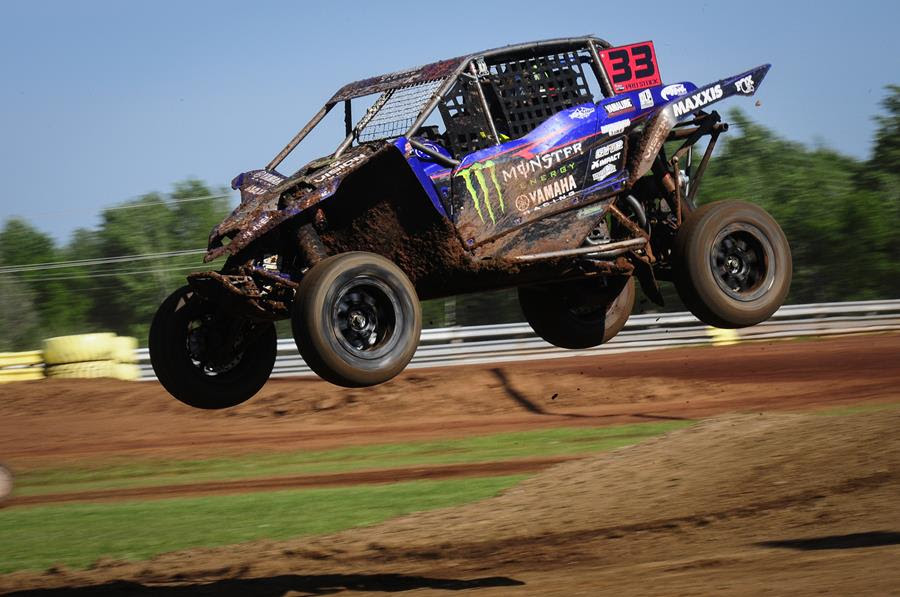 Greaves Starts Strong in Pro Stock
CJ Greaves (Yamaha) won the 2020 Pro Stock SxS title in convincing manner. He picked up where he left off by taking the opening race of 2021.
Greaves was patient for the first few laps, working behind early leader Jeremy Houle. He found the lead on lap three, working on the same tactic that he would later use on his way to his win in Pro 4: utilizing the outside line. After that, he stayed out front as he drove to his seventh win in the last nine class races.
"I made some smart decisions early on and committed to the outside line," said Greaves. I saw what the watering trucks were doing early on, and thought there'd be some track left out there."
PRO BUGGY: Michael Meister only competed in two races in 2020, but they were both wins. His first running in 2021 pushed his personal winning streak up to three after a dominant Pro Buggy race in Antigo. Meister grabbed the lead from Chris Van Den Elzen on the fifth lap and never relinquished it. Van Den Elzen and Mark Steinhardt would battle it out for second, with Den Elzen creating enough separation over the final two laps to finish in the runner-up spot.
SHORT COURSE KARTS: The opening day line-up in Short Course Karts had a lot of familiar surnames to off-road race fans. At the end of the race, it was Ellah Holtger picking up her first win in the class in convincing fasting. Ava Lawrence gave a late charge but couldn't get past the race leader before finishing second. Race Visser worked his way through traffic to finish third.
570 SXS: Championship Off Road is building a stepping-stone to the future with the introduction of the 570 SXS class in 2021. Chase Braun took home the class's inaugural win in commanding style. Ethan Dresel put in several charges to the front before crossing the line in second. Ben Heiting finished third.
MOD KARTS: Defending Mod Kart champion Easton Sleaper picked up where he left off with a win on Saturday. Michael Funk went from sixth to second for the runner-up spot. Porter Inglese rounded out the podium in third.
1600 LIGHT BUGGY: Collin Schulz showed a lot of speed and staying power, holding off. late charge from veteran Greg Stingle to win the first 1600 Light Buggy of 2021. Joe Jorengsen crossed the line behind Stingle for third.
STOCK TRUCK: Scott Bellinger notched his first career win in the Stock Truck class on Saturday. He had pressure from Cory Holtger, who was debuting his new truck at Antigo. Diesel Shanak finished third.
SUPER STOCK TRUCK: Nick Byng drew the first pick and went wire-to-wire to win the Super Stock Truck class on Saturday. It was the second year in a row that Byng opened the season with a win. Joey Maciosek threw everything he had at Byng, before finishing second, just ahead of Ben Holtger.
1600 SINGLE BUGGY: The 1600 Single Buggy class is always a must watch show in off-road, and Saturday's race in Antigo didn't disappoint. Dylan Parsons was on. rail, holding off defending champion Billy Buth for the win. Travis Trelstad rounded out the podium with an impressive third place run.
PRO AM SXS: The series also added a second Side-X-Side class to the schedule this season, the Pro AM SXS, which is designed as a bridge between the Sportsman SXS and Pro Stock classes. Dylan and Tyson Marquardt squared off for most of the race, but Jake Kosmecki caught the leaders with two laps to go. Dylan Marquardt didn't miss a beat while picking up the win. Tyson Marquardt wasn't able to hold off Kosmecki, who finished second.
SPORTSMAN SXS: Twenty-six cars started the Sportsman SXS race on Saturday, but it was a former buggy driver, Derek Tilkens, who drove through the checkered flag for his first career win in the class. Collin Kernz finished second, just ahead of Cody Jones, who made a last turn pass to finish third. Jones podium finish came after starting 25th.
170 SXS: Raymond Deininger capped off a strong race with the first 170 SXS win of the season. Ellah Holtger was able to hold off 2020 class champion Finley Holtger for second.
Round 2 of AMSOIL Championship Off Road will be held in Antigo, Wis. on Sunday, June 6. The full day of racing will be live-streamed at Champoffroad.com or on Flo Sports. Programming begins at 9:00 AM CT.